There were sad happenings in Sparks, NV this week with the shooting at Sparks Middle School. Our hearts are with dear friends who still live there. We haven't lived there for many years but the years we did live there were very special. A mixture of memories fun, good, bad and yes ugly.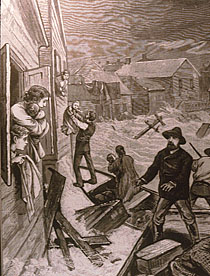 Floods happen in Nevada. This one is in 1862
In February 1986 there was a huge flood. Heavy rainfall contributed to
significant flooding over western Nevada and the eastern
Sierra. Two persons died as a result
of the flood. The Truckee River basin was the main basin
affected. Water storage upstream at Stampede Reservoir,
combined with channelization in downtown Reno
(completed during the previous 15 years), prevented even
greater damage.
Pineapple Express for February 1986
This memory has a mixture of three of the memories the good, bad and fun. It is a time when our streets in Sparks flooded and we didn't have electricity and some of our friends had water getting into their homes. A time of young men and young women rushing to help by moving the furniture downstairs to the upstairs. Friends boating over to check and see if families were alright and to see what they might need. That was fun to see those boats. It was a time at our house of teenage friends coming over to play games by the light of the kerosene stove. I can't remember what treats I served because we didn't have electricity. But I know we had fun. I remember wishing I had a wood stove like the Laramie's so that I could heat the house and cook on it. I always wanted to be a real pioneer. :)
Times and memories like these are what makes life so special if you have 'A Family Disaster Plan'.
I guess our plan was that kerosene stove.
Love,
Grammy T.